If your baby is 6 months or older than that he or she is ready to explore a variety of solid foods and nutritious vegetable purees are a great start to enrich their growth. With the number of healthy and delicious options available, it will be an exciting adventure for both of you. As your baby goes through this crucial journey of discovering new tastes, choosing the right vegetable purees for 6 months+ babies is equally important. With numerous options available in the market, it might sound difficult but FoodSteps baby food makes this job easy for you with creamy and consistent vegetable purees.
These nutritious vegetable purees are not only rich in several essential vitamins and nutrients but also delicious for your children. These can be the perfect substitute for the breast milk that he/she is getting until now and help them in their healthy growth. Try with the most consistent textured and flavoured purees in the beginning and slowly move to the next. Be persistent and patient even after the initial rejection as it is vital for their growth.
Benefits of these baby food purees:
Develop swallowing capabilities
Adjust to different flavours other than breast milk
Identify food allergies
Identify accepted flavours and forms of food
Types of vegetable purees for 6 months+ babies: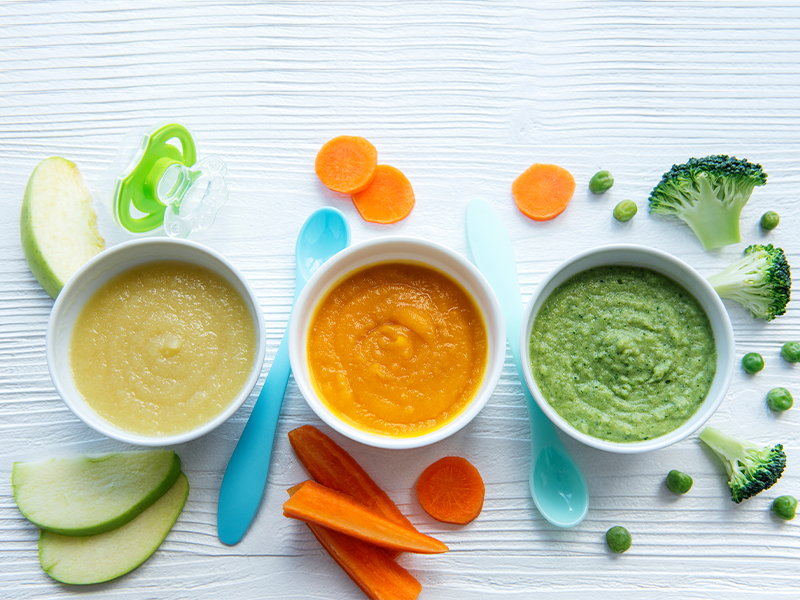 Pumpkin Purees:
Pumpkins are known for their proteins, Vitamin C, beta-carotene, iron, and antioxidants. They are rich in fibre to help your baby with easy digestion. FoodSteps Organic Pumpkin Purees also help in boosting their immunity and aids in fighting several early infections. The anti-bacterial goodness of pumpkin helps in eliminating intestinal worms. The delicious and sweet taste of them will be a great start for your babies as well.
Sweet Potato Purees:
Potatoes are naturally abundant in carbohydrates, and vitamins and minerals like iron, potassium, Vitamin B and Vitamin C, making this a perfect choice to be a baby food puree. The thin consistency of these purees makes it easier for your baby to digest properly without any gas formation. If you want your baby to be up and running all the time, they are also power-packed with energy too.
Carrot Purees:
Carrots are sweet in nature and are perfect for your baby's initial adventure with foods. Carrot baby puree is a superfood to enhance your baby's growth. It is rich in Beta-Carotene, Calcium, Potassium, Iron, Magnesium, and Vitamins A & C. The abundance of fibre in it helps the digestive system of your baby. It improves their eyesight and avoids constipation.
Green Peas Purees:
Green peas can attract your babies instantly with their vibrant green colour. They are rich in fibre, vitamins, and minerals like vitamin A, Vitamin B1 & B6, Vitamin K, vitamin C, magnesium, potassium, iron, and phosphorus. They help in strengthening immunity, avoiding constipation, maintaining healthy weight, and improving digestive health.
Beetroot Purees:
Beetroot purees are rich in B-vitamins, and most other essential minerals. The combination of vitamin C and copper increases your baby's capability to absorb iron and avoid iron deficiencies and anaemia as it may cause lethargy and reduce overall development. They are packed with antioxidants to clean up toxins in their bodies. Also, allergies to beetroots are very rare, thereby reducing worry about their health and well-being.
4-6 months is usually a developmental milestone for most of the toddlers. It's the time when they get control over their necks and need most of their nutrition to develop their organs, gain energy and promote their growth. FoodSteps offers you nutritious baby purees to help you with this crucial phase of your child's development. Make sure that you feed them with the right amount of purees instead of overfeeding regardless of their appetite. They will display a few signs for you to understand when to stop. They will close their mouths when you approach them with food. They will turn their head away when the spoon reaches their mouths. If you still persist and feed them, they will spit out food in their mouths. When this happens, it's better give them some time to digest what's already inside their stomach and then be ready for their next meal.
Every child is different and so are their palates. The flavours that one loves may not be suitable for another child. Each one's tolerance for the introduction of new foods will be different. Parents should always be aware of it before feeding them. Ensure that they are hungry before feeding them. As FoodSteps baby purees come with a detachable spoon, use it to feed them with convenience. If they are rejecting the food, keep it aside and try different flavour instead of forcing them to consume everything you offer. If you find any specific flavour that they like, make it a springboard to introduce more flavours in combination with that. To aid you with that, FoodSteps offers you a wide variety of fruit and vegetable purees for 6 months+ babies.