After the first 6 months of feeding your baby with milk, it's time for you to introduce them to solids. You can gradually reduce the amount of milk they consume and increase their solid intake. The substitute for nourishing milk should also be nutritious enough to support their healthy growth. It's important to make them adjust to this change at their own pace, as some babies can instantly love it and some can take a longer time than usual to shift to solids from milk. So, what should you be giving to your baby? What could be the foods that are highly nutritious and yet tasty? What can make this shift easy for you and your kid?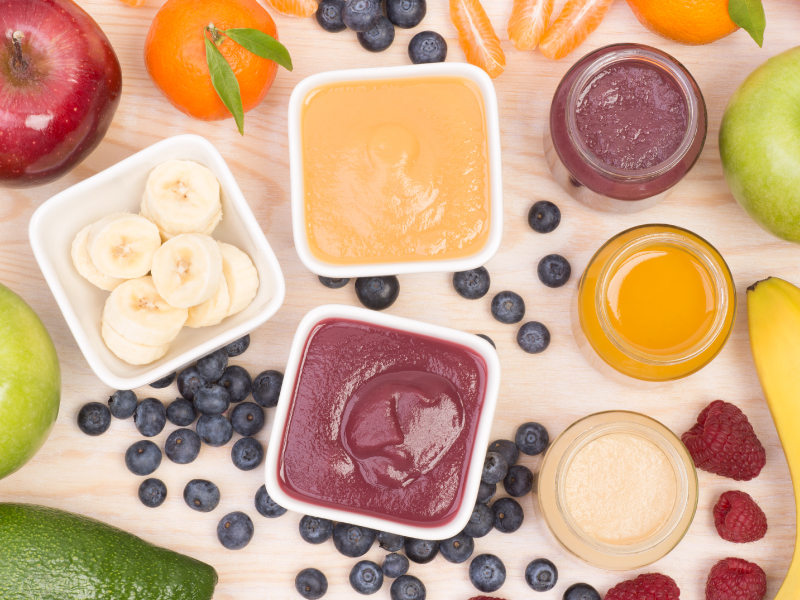 When any fruit is cooked, ground and blended until it becomes a creamy paste, it's called fruit puree. It comes with the natural goodness of fruits with nutrients that are vital for the development of the baby. Given its liquid consistency, it is easily digestible by their developing tummies as well. The natural flavours and aroma of fruits can also make them interested in the food and avoid the tantrum.
Is your baby ready to eat fruit purees?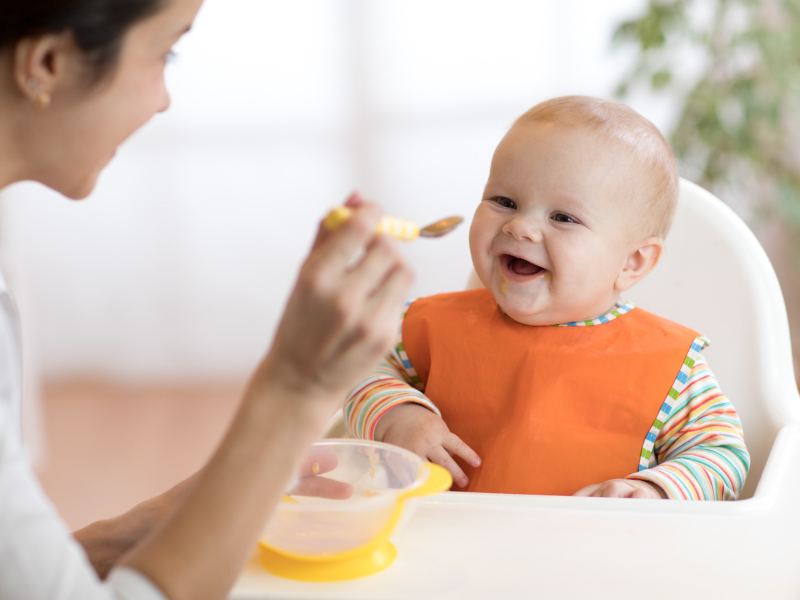 An average baby of 6 months would approximately need 200KCal of energy. Purees can be a great way to deliver those essential nutrients to them for their physical, mental, and cognitive growth. You can observe your kid for signs of readiness for this transition. They can be fed purees only when
They are around twice their birth weight

They can sit without help

They mouth their hands or toys

They can hold their head in a steady and upright position

They show their interest when others eat by going towards them and opening their mouths

They lost their tongue thrust
If your baby seems disinterested in purees even after the signs of readiness, wait for a couple of weeks and try changing the flavours.
How should you feed your baby?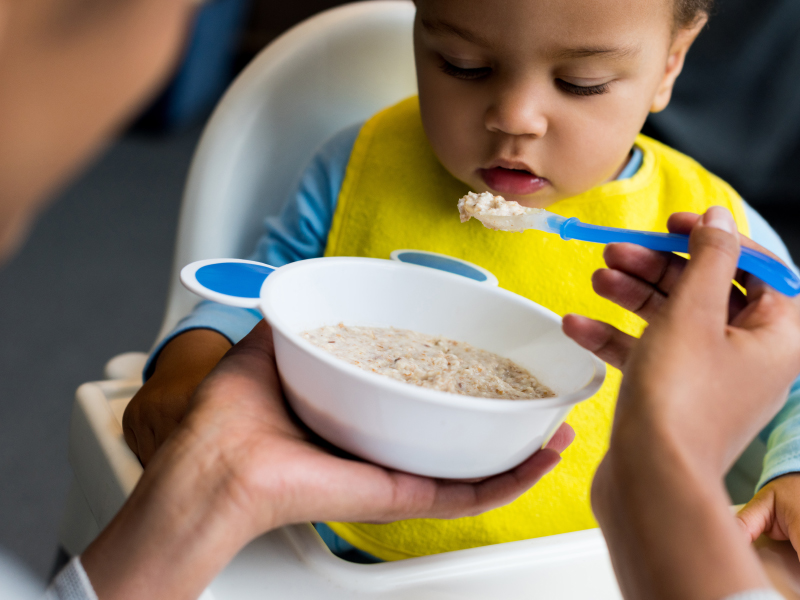 Feeding your babies can be as fun as it can get frustrating. In order to avoid tantrums, pick a time and make it a habit for your baby to eat at that specific time. Make sure he or she is a bit hungry. Have your baby sit in your lap in an upright position. Keep the spoon near your baby's mouth, and let the baby smell and taste small bites. If they reject it and push aside the food, don't force them, try it after some time. 
Nutritious Fruit Purees for your baby's tiny palate: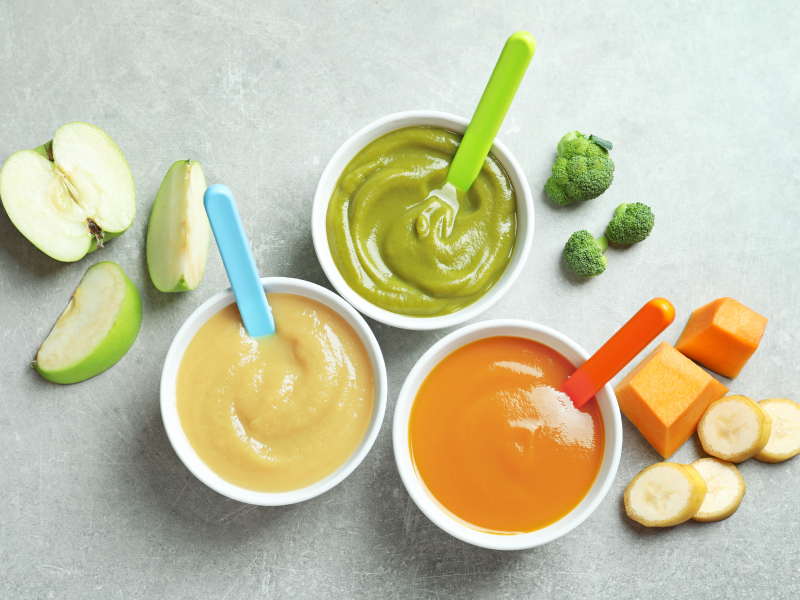 FoodSteps offers you a lot of options of organic fruit purees to choose from that are delicious and easy to digest. It allows your babies to experience a wide range of grains, wholesome fruits, and vegetables in the form of purees. These readymade purees for babies come in 7 different flavours that can ensure that your baby has a well-balanced nutritious diet and help in expanding your baby's taste palate.
Fruit purees for 6 months+ babies: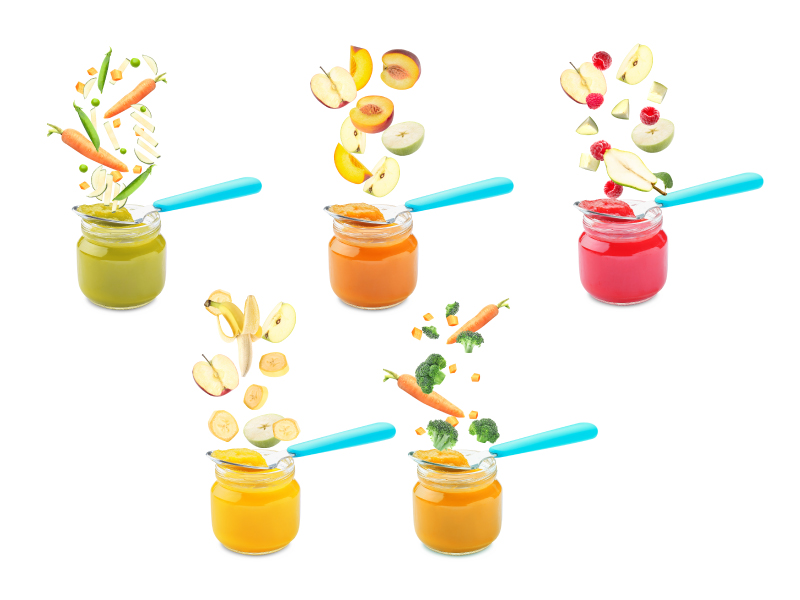 Banana Fruit Puree is a good start for your babies as it is sweet and nutritious at the same time. It contains essential nutrients that can keep the energy levels of your baby intact. The sweet taste and creamy texture make it the best banana puree for babies. Though it is easy to make and easily digestible for babies, it is advised that you don't overfeed banana purees to your baby as it can cause constipation. 
Strawberry purees are one of the tastiest foods that you can introduce to your kids. They will relish every last spoon! They not only have sweet and refreshing flavours but also great nutritional values that help in the overall growth of your baby. Although Strawberry puree for babies give rich in vitamins and other nutrients, they do not have enough calories. Hence, serve strawberry fruit puree it with some diced fruits for a wholesome meal.
Mangoes are the best summer fruits! A spoonful of mango puree for your little one comes with a lot of nutrition. Mango fruit puree is loaded with beta-carotene that your baby needs for healthy eyes and a strong immune system. Mango puree for babies contains vitamin C to increase bone growth and hormone function to help your babies absorb iron for healthy blood.
Papaya fruit purees can be introduced to your babies after 6 months. They are packed with Vitamins A and C. Papaya purees help your babies absorb iron from every plant-based food that you provide them with. Papaya purees for babies is a great way to promote a healthy gut, stronger cells and overall wellness.
Apple fruit purees can be introduced as early as your babies are ready for solid foods. Apple purees are full of fibres, Vitamin C, Vitamin B6 and powerful antioxidants to promote your baby's growth. They support your baby's heart health, strengthen the immune system and gut health.
Orange fruit purees is a healthy introduction to your toddlers. They have a ton of fibres that promote their gut health, and the antioxidants can power their immune system. They contain B-vitamins and beta carotene to increase the overall wellness of your babies.
Some fruit combinations are both delicious and a great variety to introduce to your baby's palate. One of them is Apple Puree with banana as they are less allergic and rich in nutrients. Both of them complement each other with a sweet taste and smooth texture.
Mango puree with papaya is delicious food that you can introduce to your babies after 6 months. They are balanced in flavour and rich in nutrients to promote your child's skin, vision, and improved digestion. They are delicious in taste and easy on their gut!
Along with these fruits purees, you can also introduce some vegetable purees for 6 months+ babies like Purple Sweet Potato Purees, Orange Sweet Potato Purees, etc. 
Feeding solids to your baby with a bottle can be dangerous as it might result in choking. FoodSteps provides you with a detachable spoon to make it easier for you to feed. Our delicious purees with a range of flavours expand your toddler's palate. It introduces your baby to a balanced yet nutritious diet consisting of fresh fruits, veggies, and grains in a smooth, consistent puree. Our small and compact pouches are easy to carry everywhere. As FoodSteps take care of the healthy growth of your kid, you can enjoy the adorable faces they make while they slurp on delicious purees.